"Trust Me - I'm a Mechanic"

The question is if we actually trust anyone with our "baby"? It is true that servicing your own vehicle can save large sums of money, however that doesn't necessarily mean that it's being done it right.

Over 5000 people within South Africa say they do not trust their mechanic and sadly only 1649 South Africans believe that we have professional technicians according to a study done with Wheels24.

While the maintenance of your vehicle is costly, taking it to a mechanic to do the job for you is an additional cost that not everyone can afford. The reality is that South Africans are resourceful people, so backyard mechanics are in abundant.

To be safe though (and fair) – there are a few routine maintenance tasks that can be done at a quick cost and possibly at home – taking into consideration that it doesn't account for the cost of the tools you would need.

• OIL CHANGES

This is one of the easiest tasks. The process is pretty straight forward and requires a close eye on the intervals when changing the oil. Today's vehicle's have changing schedules ranging from 8000 to 16000 kms and sometimes even longer – thanks to synthetic oils.Always check the owner's manual – it provides recommendations on normal and heavy-duty driving.

• TYRE ROTATIONSRotation of your tyres is essential to ensure even wear. Check regularly for bulges, cracks, chips or uneven wear. It is best to invest in a good floor jack if you want to rotate your own tyres but remember your wheel balancing and alignment is also essential.• DRAIN FLUIDSIf you are confident with changing your own oil then you can try replacing the transmission, brake and coolant fluids. It is important to follow a checklist when replacing these different fluids - like verifying sufficient fluid levels and checking plug connections.

• BRAKE REPAIRThis is one of the easiest things and probably one of the first things a backyard mechanic would be able to do even in their sleep. It is important to buy quality parts and to lubricate, clean and install correctly or else you could be going from "Hey no hands!" to "Hey, no brakes!".

• FAN BELTThis is best left to mechanics as it includes the various pulleys and proper tools to get in and around the parts.

What you choose to do might depend on whether you have the time, patience and tools to do all this. Mechanics also have trusted suppliers they buy from. They tend to get their products at a cheaper price allowing them to carry on their savings to you, the consumer, when making use of their services. The list above is also basic low-key maintenance and doesn't include any major services.

The AA in some instances may also be a good place to start as according to Women on Wheels – they are quick, efficient and thorough with the checks. In many cases a small booklet is handed over when car is ready for collection detailing all the issues with your vehicle, those needed immediate action highlighted. It comes highly recommended to try the AA for technical examinations, but boils down to whether you want to Rambo your way out of using a mechanics or want to try and find a trusted and honest source.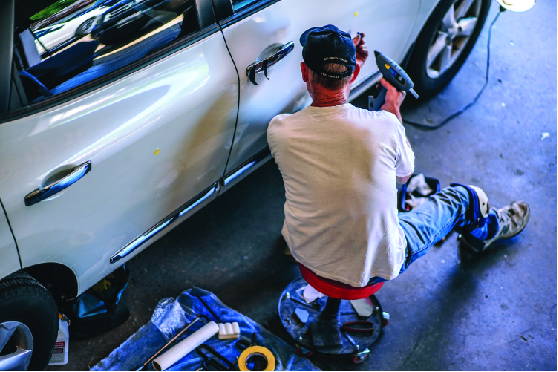 Weekly Deals - Valid until 6 March 2019

Taking Care of Your #1 Tool

You wash your spanners in petrol and you hose down your workshop floor with powerful degreasers – of course you do – you're a professional mechanic. But, how well do you care for your #1 tool – your body?

International medical surveys show that auto mechanics rank in the top 10 of all professionals suffering from spinal issues and back pain. Clearly, working on cars all week long places sustained physical stress on the body and apart from eating and resting well, professional auto mechanics should invest in tools that help protect their vital organs and make their work more efficient.

Here are seven cost-effective body savers:

• 2-in-1 Garage Creeper: This back-saving tool allows you to work under the car friction-free and in comfort. An upholstered mattress on swivel castors converts into a chair allowing easy movement both under the car and alongside it.

• Hydraulic jack: If you don't have access to an expensive workshop lift, a hydraulic jack is essential to create workspace under the car. After all, you're not getting paid to be a contortionist!

• LED Work Light: Working under the vehicle away from overhead lighting places excessive strain on your eyes. Use a powerful portable rechargeable LED work light for speedy and safe executions.

• Safety glasses: You don't want any fuel, grit or chemicals anywhere near your eyes, especially likely when you're on your back under the vehicle. Get a pair of safety glasses. They're inexpensive and now come in streamlined designs.

• Surgical gloves: Working with grease, oil, fuels and chemicals all day long will eat away at your skin and nails. Protect your hands with disposable, budget-friendly surgical gloves. While keeping your hands stain-free, they don't hamper your performance in any way.

• Dust mask: Apart from the harmful liquids hovering near your face as you fit the drain plug, dust and fibres also lurk in the workshop. A good dust mask will save your throat and lungs without denting your budget.

• Toothpaste: A hot tip – should you burn or scald yourself on a hot auto component, rub good old toothpaste on the wound immediately and cover with a bandage or surgical glove.

Toothpaste removes the sting and prevents nasty blistering.Remember – investing in your ability to work well is investing in your business!